(MY) MANDALAS
2014-2023
Print on canvas & painted highlights
Set of 99 mandalas 
Panel : 5 x 6,80 m
Individual mandala : 60 x 60 cm
© Chrystel Egal 
(MY) MANDALAS
2014
Super 8 film
2 minutes 05 sec
Music La Pierre de Neyboes by Grégoire Lourme
© Chrystel Egal 

(my) MANDALAS (2'05)
La pensée appelle sa forme. Ce qui me bouscule, me séduit, me perturbe, me touche, me blesse et m'élève, impose sa forme. Ces écritures sont autant de tatouages intérieurs. Palpitations de mon existence. Radiophoniques, littéraires, sursauts, réflexions à vif, interrogations ouvertes. A ressentir ou à décrypter. Respirer les blancs, plonger dans le noir. Se laisser envahir par la vibration du texte.
A l'intérieur de la série, chacun peut choisir son mandala. Eprouver comme avec une personne, une attirance particulière pour la figure. Dans notre passé, nous avons accumulé des expériences. Nous avons éprouvé des sentiments, ressenti des passions. Cela a construit un paysage affectif dans notre vie présente qui nous oriente vers certaines couleurs, certaines formes, certains êtres. C'est pourquoi je les nomme (my) mandalas, tattoos like prayers.
Thought calls for its form. What upsets me, seduces me, disturbs me, touches me, hurts me and raises me, imposes its form. These writings are as many interior tattoos. Palpitations of my existence. Radiophonic, literary, jolts, sharp reflections, open questions. To feel or to decipher. To breathe in the whites, to dive into the dark. To let myself be invaded by the vibration of the text.
Within the series, everyone can choose their own mandala. To feel as with a person, a particular attraction to the figure. In our past, we have accumulated experiences. We have experienced feelings, felt passions. This has built up an emotional landscape in our present life which orients us towards certain colors, certain forms, certain beings. This is why I call them (my) mandalas, tattoos like prayers.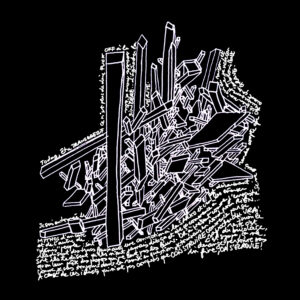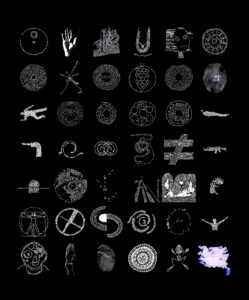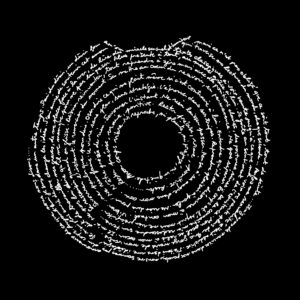 EXHIBITIONS
2021   (my) mandala Love, Le Hublot, Ivry sur seine, FR
2015   (my) mandala Love, Maison Européenne de la Photographie, Paris, FR
2015   Je suis pronoïac, Galerie Begramoff, Bruxelles, BE
2015   Y.I.A. Art Fair, Maison de la Poésie, Paris, FR