Cliquez ici pour voir la video >COMPTON 1993
2 minutes 44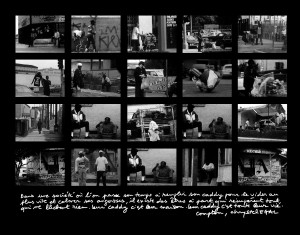 Compton – Los Angeles – 1993 –
Un an après l'assassinat de Rodney King.
Dans une société où l'on passe son temps à remplir son caddy pour le vider au plus vite et calmer ses angoisses.
Il existe des êtres à part qui récupèrent tout. Leur caddy c'est leur maison. Leur caddy c'est toute leur vie.
One year after Rodney King's murder.
Some people empty their caddies to calm down their anguish when for others, this is the only thing they got in life.
Compton 1993
Photograph 81 x 60 cm
Printed on Fine art paper.
Edition of 3 + 2 A.P.
2004