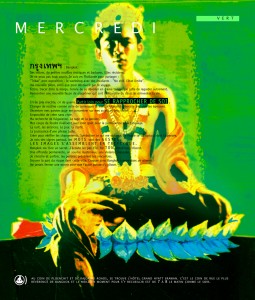 MERCREDI, vert, le jour de mercure.
Les lettres thaïes, de petites nouilles érotiques et barbares. Elles résistent. Je ne peux pas tout savoir. Je suis en Thaïlande pour partager : Tribal mon exposition – le workshop avec des étudiants -No shit, l'état limite, ma nouvelle pièce, ainsi que pour découvrir par le voyage. Écrire, tracer dans la marge, l'envie de se dévoiler en même temps que celle de regarder autrement. Rencontrer une nouvelle façon de s'exprimer qui soit inséparable du désir de réinventer la vie. Cri de joie érectile, cri de guerre. Partir loin pour SE RAPPROCHER DE SOI. Changer de routine comme celle de convoquer la mort.
Its letters, erotic and barbarous little noodles. They stand their ground. I cannot know everything. I am in Thailand to share : Tribal, my exhibition – the workshop with my students – No shit on the edge, my new piece, as well as discovering through travel. Writing, drawing in the margin, the desire to unveil oneself and at the same time look at things differently. To come accross a new way of expressing yourself that cannot be separaed from the desire to reinvent life. Erectile cry of joy, war cry. To go far away to get closer to yourself.
81 x 95 cm
Printed on C-print.
Marouflaged on aluminium 1mm.
Edition of 3 + 2 A.P.