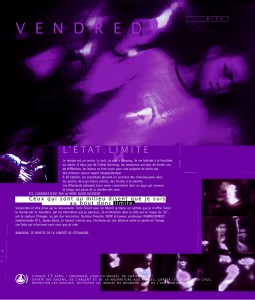 Vendredi, bleu, le jour de vénus
Bleu, l'état limite.
Le monde est un cercle. La nuit, je suis à Patpong. Je me ballade à la frontière, en alerte. À deux pas de l'hôtel Surivong, les amoureux ont plus de trente ans de différence, les blancs se font sucer pour une poignée de bahts par des mineurs. Aucun regard désapprobateur. À DJ Station, les prostitués glissent en souriant des chewing-gums dans les poches de leurs futurs clients, des Clorets à la menthe. Les Allemands plongent leurs sexes voracement dans un pays qui savoure le temps qui passe et la lumière des sens. Ici, l'urgence n'est pas la même qu'en occident. Ceux qui sont au milieu disent que je suis au bout donc limite. Surprendre et être prise par le mouvement. Tenir l'écart pour en retenir la trace, un rythme que je m'offre. Saisir
le monde par le macadam, par les kilomètres que je parcours. Je m'introduis dans la ville par le risque du "je", par la capture d'images, au gré des rencontres. Docteur Preecha, SOOK le boxeur, professeur MUANGSOMBUT, mademoiselle N°5, James Bond. Le hasard n'existe pas. L'écriture est une alliance entre la parole et l'image. Les faits qui m'arrivent sont ceux que je crée. Bangkok, je profite de la liberté de l'étranger.
Friday. Blue. On the edge.
The world is like a circle. At night, I am in Patpong. Strolling along the front line, senses brimmed. A stone's throw from the hotel Surivong, the lovers have a thirty year age difference, white flesh is sucked off for a handful of baht by under age kids. There are no disapproving looks. At D.j Station, smiling hookers slip sticks of menthol Clorets gum into the pockets of prospective clients. Some Germans hungrily plunge their cocks in a country which enjoys the slow passing of time and the light of the senses. URGENCY HAS A DIFFERENT MEANING HERE THAN IN THE WEST. Those who are stuck in the middle say I am on the edge and therefore limited. To surprise and to be taken by the motion. Stepping back to retain the scar, a rhythm of my own. Grabbing the world by the tarmac, hanging on over the kilometers I cover. I slip into the city through the risk of the Id, through the capturing of images, going flowing with the flow of chance encounters. Professor Muangsombut, SOOK the boxer, girl no5, James Bond. there's no such thing as coincidence.Writing is a coalition beween words and images. Events that happen to me are of my own making. Bangkok, I make the most of the freedom of an outsider.
81 x 95 cm
Printed on C-print.
Marouflaged on aluminium 1mm.
Edition of 3 + 2 A.P.