EXTASY
2001
Super 8 film
4 minutes 24 sec
Maison Européenne de la Photographie, Paris
Music Dark gift by Ben Neill
© Chrystel Egal 
Series of 10 film stills
80 x 60 cm & 30 x 40cm
© Chrystel Egal 

  EXTASY (4'24)
5 heures du matin, hypnotisée par le tempo, les pupilles dilatées, sur le fil de l'ecstasy, je suis une sculpture tremblée, un fétiche de Giacometti. Lumière acier, lèvres irisées, rêverie blanche, extase de nuit… Autour de moi, un océan de feu à 160 beats par minute. Au sommet du cratère, face aux enceintes de lave, je ne compte plus en dollars, je caresse par seconde.
5 a.m., hypnotized by the tempo, dilated pupils, on the edge of extasy, I am a trembling statue, a giacometti's fetish. Steel light, iridescent lips, white daydream, extasy night… Around me, an ocean of fire goes 160 beats a minute. At the summit of the crater, facing the speakers of lava, I don't count in dollars, I caress per second.
Une échappée sensuelle pour libérer mes visions.
Un lien explosif entre la capture d'images, la tension et l'urgence de la création.
Saisir les pulsations des mégalopoles et le bout du monde, Vik, Geysir en Islande.
Extasy, la capsule, extasy, un état de vie.
The rhythm, staccato of sensations, a sensual trip through the world to capture a vision.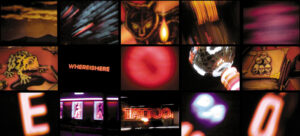 EXHIBITIONS
2008    Expenditure, Biennale d'Art Contemporain de Busan, KR
2007    Vidéoformes, Cur. Gabriel Soucheyre, Galerie du Haut Pavé, Paris, FR
2002    Ssamzie Studio, Kim Hong Hee, Seoul, KR
2001    Call & Respons, Cur. Emma Lavigne, Villette Jazz Festival, Paris, FR