COMPTON 1993
2004
Super 8 film
2 minutes 44 sec
Music Dreamspace by Scorn
© Chrystel Egal
Film stills 
Fine art paper
81 x 60 cm
© Chrystel Egal 

COMPTON 1993 (2'44)
Un an après Rodney King
Un drogué cherche sans cesse à augmenter les doses et à rapprocher les prises. De même, il existe aujourd'hui une incitation permanente à la consommation pour qu'elle devienne addictive. La situation est explosive.
Parallèlement à cela, il existe des êtres à part.
Dans une société où l'on passe son temps à remplir son caddie pour le vider au plus vite et calmer ses angoisses, il existe des êtres à part qui récupèrent tout, qui ne lâchent rien.
Leur caddie, c'est leur maison. Leur caddie, c'est toute leur vie.
One year after Rodney King
A drug addict is constantly trying to increase the doses and bring the doses closer together. Similarly, today there is a permanent incentive for consumption to become addictive. The situation is explosive.
At the same time, there are beings apart.
In a society where you spend your time filling your shopping cart to empty it as quickly as possible and calm your anxieties, there are special beings who collect everything, who never let go.
Their shopping cart is their home. Their shopping cart is their whole life.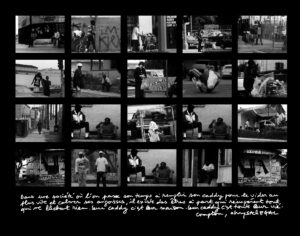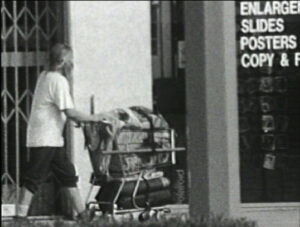 2007 26è Festival International de Arte Electronica, San Paulo, BR